Daily Essentials Bundle
Supercharge your health with our popular Supreme Greens formula, Organic Whey Protein, and Super Omega-3 Fish Oil. The 1-2 punch your immune system needs to make sure what's going around, doesn't get you down.
Stimulate adaptive immune responses
Support cellular integrity
Support immune system defenses
Benefits

Boosts immune system 
2 pounds of vegetables in every serving
Builds muscle & increase metabolism
Relieves pain and inflammation
Improves cardiovascular health
Fights depression
Ingredients

Organic Supreme Green Capsules:
Capsules contain 5 grams of fiber and 34 high impact ingredients in each serving. 

Super Omega-3 Fish Oil:
Formulated with rosemary to keep it fresh, and designed to be absorbed by your lower rather than upper intestine for maximum absorption.

VitaSupreme's Organic Grass-Fed Whey Protein Isolate:
Our Organic Grass-Fed Whey Protein Isolate is made with raw and cold-pressed sunflower lecithin. 
Suggested Use

Organic Supreme Green Capsules:
Take 3 small capsules 2-3 times per day for maximum benefits.

Super Omega-3 Fish Oil:
Take 2 gelatin capsules daily with a meal or as directed by your health care professional. For best results take with 8-12 ounces of water.

VitaSupreme's Organic Grass-Fed Whey Protein Isolate:
Add 1-2 scoops (15-30 grams), 2-3 times daily to a glass of water, your favorite beverage, or your post workout smoothie. 
Regular price

$144.97

Sale price

$129.97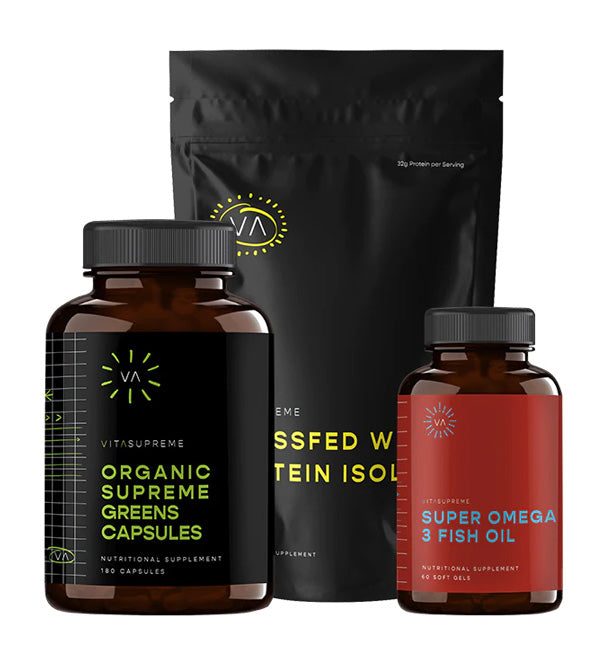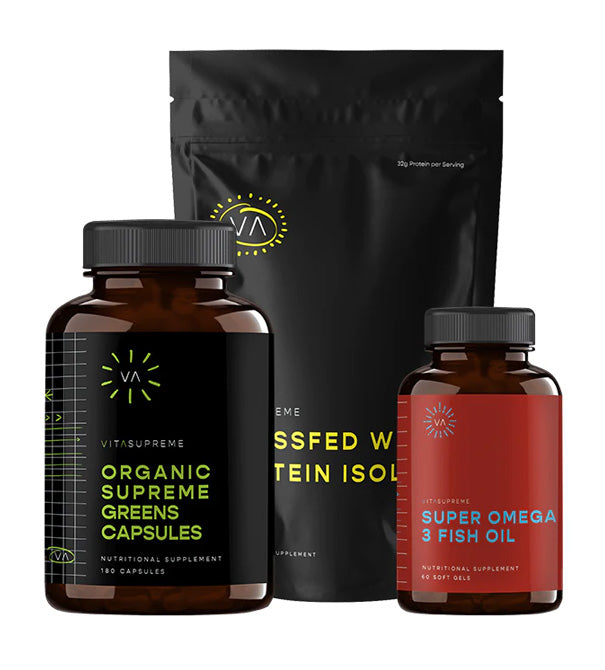 Customer Reviews
03/04/2022
maria s.

United States
love it
it work ready good
Perfect Combo for a Quarantine
The protein is awesome, literally so non invasive that I've added it to my cereal. No chalky taste, no bloated gut, no weird chemical taste... It has kept me from eating total **** during this quarantine! Supreme Greens has always been my fix for getting enough greens... Be honest, you don't eat enough greens, I never have... But with Supreme Greens, I get my daily greens in by noon every day now! The Super-Omega 3's is frankly something that I don't get enough of so I was glad to see it in this bundle! No doubt, after only 30 days, I've already noticed less joint pain and even way less brain fog. (I'm not sure that this is because of Super-Omega 3's but research tells me that it most likely is.) I highly recommend this bundle and am ordering more right now!