WHY CHOOSE VITASUPREME?
BECAUSE OF OUR HIGH-QUALITY PRODUCT PROCESS!
While it is easy to make advertising claims for supplements, producing vitamins that will actually make good on those claims is the difficult part. After all, the quality of a supplement boils down to where the supplements are sourced from and how they are made — two things too important to be overlooked. Especially because there is a significant difference in the raw materials and quality control processes different companies use to make their products. The bottom line is this, what you really get for your money is determined by two factors:
Where The Raw Ingredients Are Sourced From (Grown)
What Happens In The Laboratories Where Your Supplements Are Produced And Packaged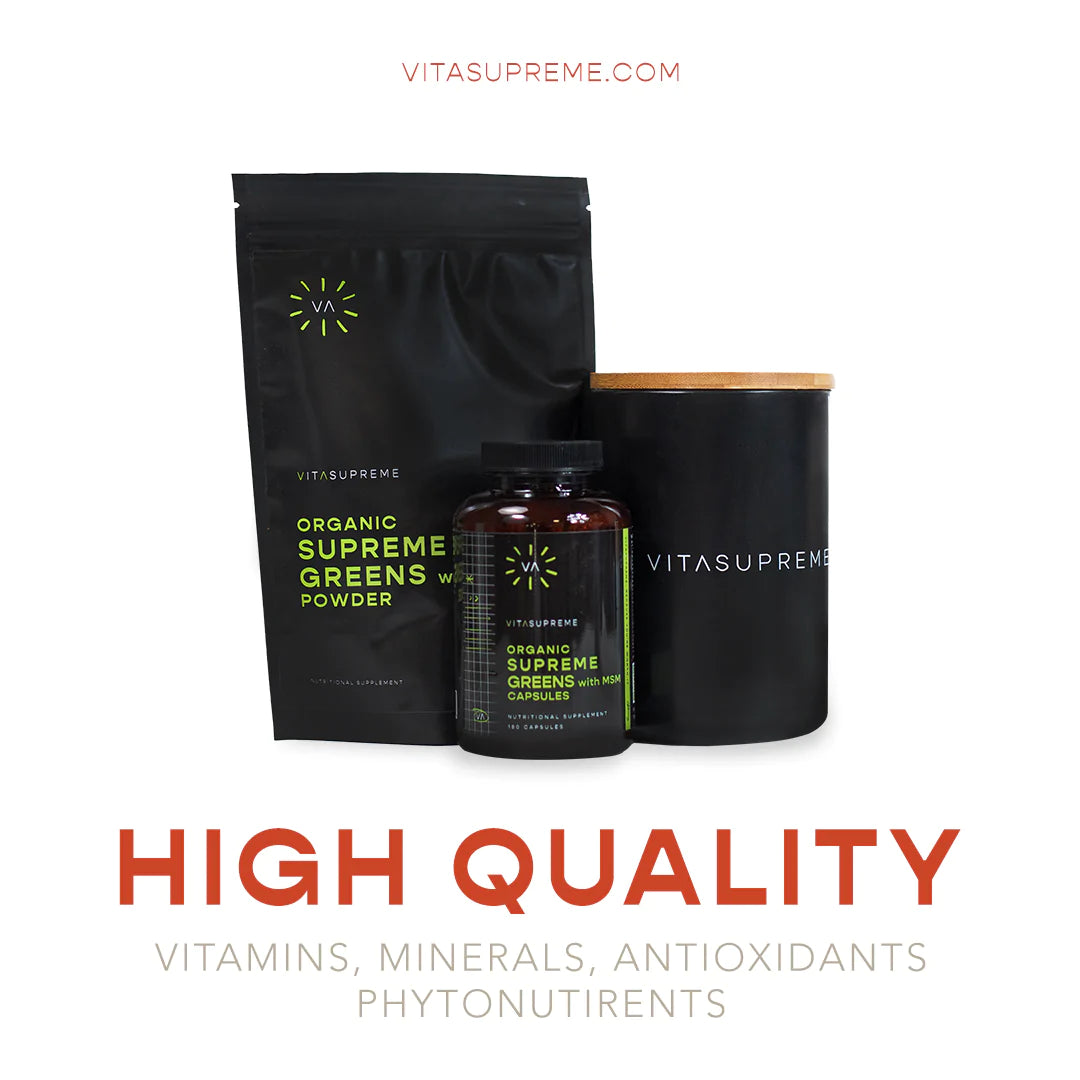 At VitaSupreme, our supplements are produced without regard to expense & strictly-according to the best processes we know. We accept nothing less than the highest standards of quality in every aspect of the manufacturing & packaging processes as well. We work with a team of experts to source the best quality, freshest, wild crafted, raw ingredients from herb growers and nutrient cultivators all over the world.
For instance, in our Supreme Greens the alfalfa sprouts, spinach leafs, & pau d' Arco bark are grown in Brazil's nutrient-rich Amazon Rainforest; the rosemary leaf is from Morocco; the watercress herb is cultivated in Germany; and Aloe Vera from our own top-tier suppliers in theUSA.
In our Super Omega-3 Fish Oil, our wild fish is caught from cold, deep waters of Norway, which is known for having the cleanest water in the world. And the coral calcium in our Coral Calcium Ultra comes from Okinawa Japan, and is harvested without harming the majestic coral reefs where it's sourced. What's more, all manufacturing, formulating, microbial testing, packaging, and research for VitaSupreme products is done from one site, so every aspect of the production process can be strictly monitored.
And while many companies, depending on their size, are being forced to achieve adherence thanks to new laws which have been passed, VitaSupreme is years ahead of the curve. We have gone to great expense to ensure every product that leaves our warehouse meets the highest possible standards. That's why we also hold the highest certification available: a certificate of manufacturing from the Therapeutics Goods Administration (TGA), which is widely regarded as the most active regulatory agency in the world for dietary supplements.

To give you an idea of what this means, out of over 400 supplement manufacturers in the United States, only 6.75% are TGA certified. We cannot stress enough just how important it is to be as careful when choosing your supplements as you are when you choose your food. Ask for supplements at your local shopping center or health food store and you get the supplements that suit your retailer. They may care more for their profits than your health. Ask VitaSupreme for supplements, and you get the best supplements the world has ever known.